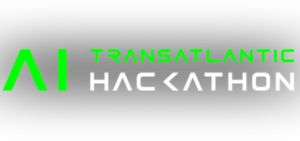 Transatlantic AI Hackathons bring together creative minds and thought leaders from both sides of the Atlantic
Join the Transatlantic AI Hackathon to… 
Create responsible AI solutions for humanity

W

ork in cross-cultural teams
Seize the chance to win from the $10000 prize money pool
Receive a Luxonis ® OAK-D-Lite Spatial AI Camera (one for every participant)
Access software from Intel and Luxonis

Luxonis® DepthAI
OpenVINO™ toolkit
Intel® Developer Cloud

Use the latest in AI tools!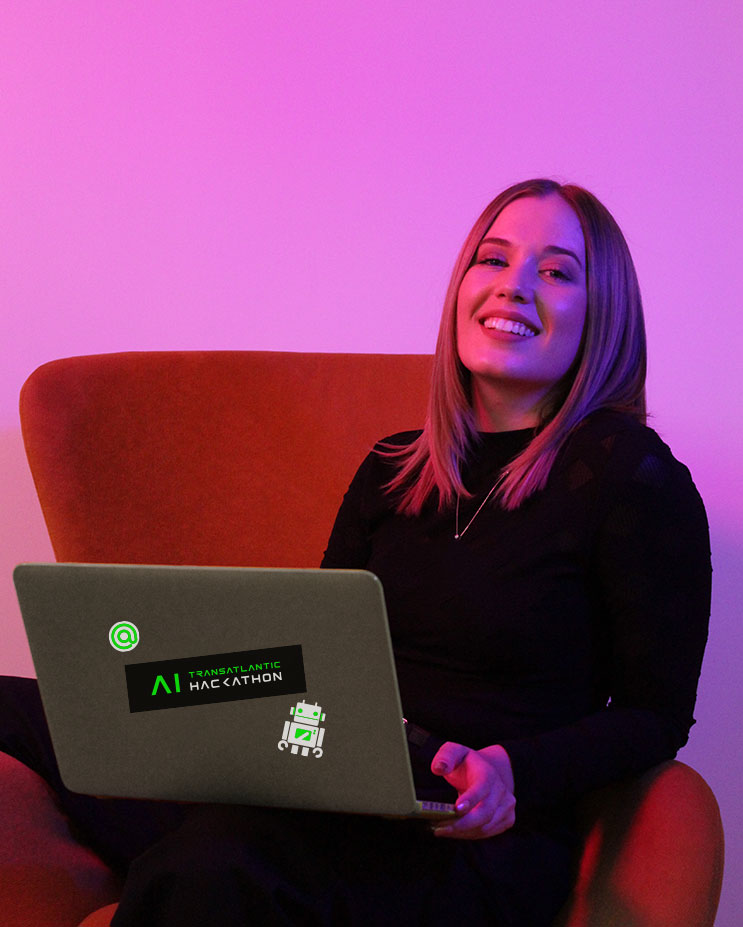 Are you up for the challenge?

Winners receive a total of $10,000 and all participants receive an OAK-D-Lite Spatial AI Camera!

Interested to meet team members from across the Atlantic?

Would you like to provide a challenge, or become a mentor, sponsor or judge?

Or do you have a general interest in this transatlantic initiative?
Anyone is invited to participate in the supporting events!
Objectives of the Transatlantic AI Hackathon Series
Cooperative development of AI-based solutions to be used for the benefit of society, the environment, the economy and the state
Intensive, virtual exchange of US and German AI developers, students, entrepreneurs, innovators, young professionals and seasoned experts
Development of practical and responsible solutions based on AI to solve specific business challenges
Establishment of (online) Hackathons as a platform for transatlantic cooperation

3rd Transatlantic AI Hackathon
Smart Industry. Transforming Manufacturing with Edge Computing and Cloud Data Integration.
Registration Deadline: April 2, 2023, midnight 
Schedule
Challenge Information Session
March 20, 2023, 16:00 CET / 8am PT
Registration Deadline
April 2, 2023, midnight
Matchmaking Workshop
April 3, 2023, 16:00 CET / 8am PT
Team Selection
April 6, 2023, 16:00 CET / 8am PT
Meet the Mentors
April 18, 2023, 16:00 CET / 8am PT
Hackathon Opening Event
April 21, 2023, 17:00 CET / 8am PT
Pitches & Presentations
April 23, 2023, 17:00 CET / 8am PT
Closing Event with Award Ceremony
April 23, 2023, 22:00 CET / 1pm PT
Thanks to our generous sponsors Intel and Luxonis, you have the opportunity to use the OpenVINOTM toolkit, Luxonis DepthAI and OAK-D-Lite spatial AI camera for your solution, but you are not required to do so. We will ship the OAK-D-Lite spatial AI camera to all members of the selected teams for you to keep, and everyone can participate in the OpenVINOTM toolkit training sessions which are scheduled before the project submission deadline and will be accessible online as well.
The 4th Industrial Revolution is all about digital transformation and making our factories really smart places.
This can be achieved by integrating all physical and digital information of the production process and by developing connected and self-aware devices that are capable of sharing information about their operational health, location, usage level, storage conditions, etc.
With the Transatlantic AI Hackathon 2023, we encourage you to become part of the digital transformation of our industry and to contribute your ideas and innovations. Just think about how robots in combination with smart cameras can make manufacturing environments more efficient, more predictable, more reliable as well as simply faster and safer.
Participants are invited to create solutions that leverage the capabilities of AI-enabled cameras and IoT devices to optimize processes and improve decision-making in manufacturing, logistics, and other Industry 4.0 sectors. Solutions should be designed to run on the edge, leveraging the processing power and data storage capabilities of these devices to enable real-time decision-making and action. This can include identifying bottlenecks in the process, predicting maintenance needs, and optimizing the use of resources, and more.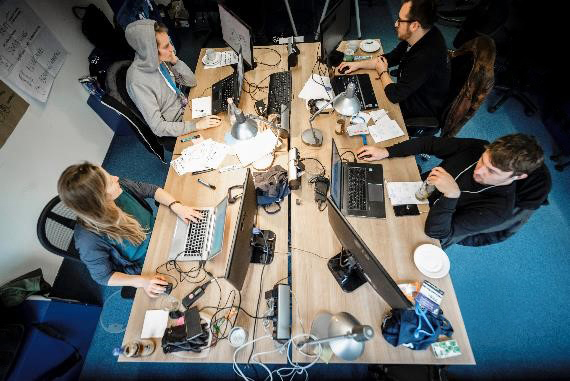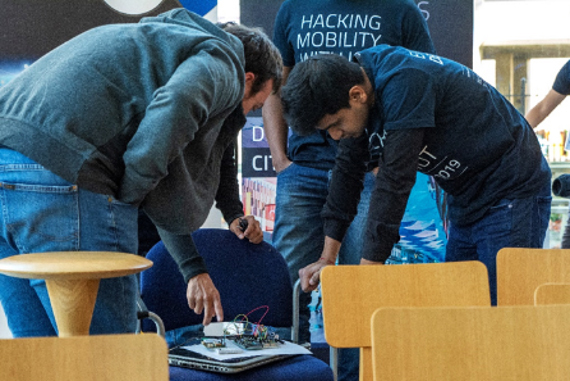 Examples of what your AI-based system can accomplish in industrial environments when using AI-enabled cameras and IoT devices:
Optimize industrial processes and operations
Monitor and control processes or alert operators to potential problems
Detect and classify objects
Analyze data to identify trends and patterns
Facilitate predictive and preventative maintenance
Predict and prevent potential downtime or safety issues
Enhance security and safety
Prevent collisions between workers and machines
Identify defects in a production line
Improve quality control and traceability
Increase overall efficiency and productivity
Your creativity is needed more than ever to bring new ideas to reality.
The Transatlantic AI Hackathon – Smart Industry • Transforming Manufacturing calls for your solutions!
Registration Deadline: April 2, 2023, midnight
Challenge Information Session
Leading up to the Hackathon on April 21-23, 2023, we recommend anyone interested to join our Challenge Information Session on March 20. Access is open for all who are interested or curious – everybody is invited to attend.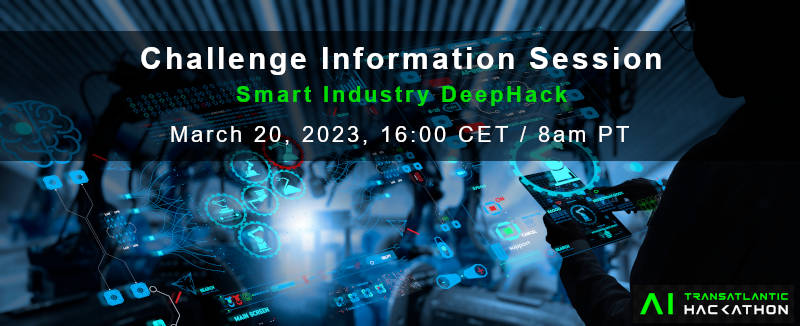 Live Zoom Webinar
(will be recorded and made available for reference later)
March 20, 2023 at 16:00 CET / 8am PT
Agenda:
Welcome & Introduction by GABA
Welcome note by Consulate General San Francisco
Welcome by EIT Digital
Challenge Introduction: AI opportunities for Industry 4.0 by AI.Hamburg
Hackathon Logistics by Ultrahack
Cool Tools & Gadgets by the Sponsors Intel & Luxonis
Q & A
Closing Remarks
Who should participate in the Hackathon?
The Transatlantic AI Hackathons are open to students, entrepreneurs, startups, innovators, tech and content leaders, developers, young professionals, experts, and companies who want to ensure that Artificial Intelligence is used in beneficial ways and are interested to work in cross-Atlantic teams.
We are also open to suggestions and submissions of concrete challenges, mentorships, and additional sponsorships. Companies and organizations of all sizes can join in – we will find the right place for you.
Everyone is invited to educational events before the Hackathon itself – for example, on the background on the challenges, cross-cultural team building, and development tools.
If you fall in any of these categories and would like to stay informed as the challenge, deadlines and pre-events unfold, please fill out the form below.
15 teams of five (5) people will be selected to participate in the Transatlantic AI Hackathon. One team participant must be a US resident, one a German resident, and the rest of the team can come from anywhere. Bring a team or apply as an individual and we will help you match-make to complete the team eligibility requirement.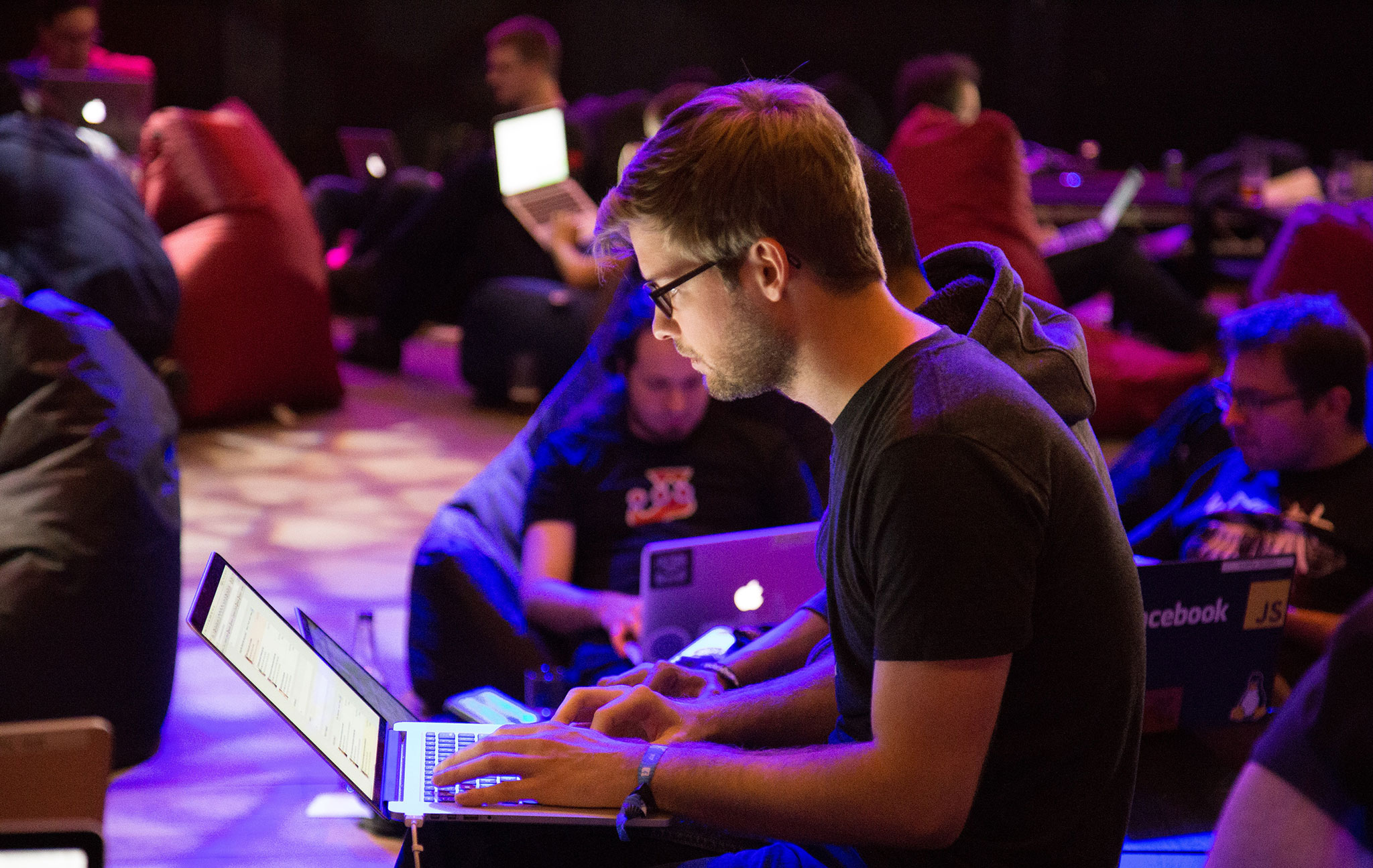 Keep me in the loop!
If you consider participating in a team, as a mentor or sponsor, or are just generally interested in the upcoming Transatlantic AI Hackathons, please sign up to receive more details as they become available.
This initiative is organized by GABA and EIT Digital and supported by the Transatlantic Program of the Federal Republic of Germany, funded by the European Recovery Program (ERP) of the Federal Ministry of Economic Affairs and Climate Action (BMWK).