Health and Safety Monitoring DeepHack
September 24-26, 2021
Check out the award ceremony:
14 teams created solutions for very important challenges such as obesity and diabetes, fires, accidents, drowning, integration of the blind and deaf, diseases of the skin, and several others. After intense deliberation, the judges decided on a first, a second and two shared third places.
The winning team conceived an Advanced BMI solution, developing a more precise measure for the Body Mass Index by using computer vision and AI on the edge without compromising privacy. During the weekend, Aïcha, Mayank, Johnny, Lauri and Marvin created an affordable working prototype for body measurement as well as an app which displays the private data on a smartphone. Congratulations team!
Moritz, Tim, Nick, Timo, and Philipp 3D-printed a small, low-power IoT device which also works as an offline solution without WiFi. It is worn by firefighters and provides visuals and real-time sensor readings, incl. toxic gases. This data can be seen in FEUERMAP, a live heatmap. Well done, FEUER-team!
Congratulations to Bonnie, András, Máté, Grzegorz, and Leonard with their Drowning Detection System for the shared 3rd Place! Their solution will extend and complement the capabilities of lifeguards. Semi-automatic drones will be patrolling a beach coast with a stereo camera, which utilizes visualization on the edge with gesture detection and localization features.
The Stata Mater – Intelligent Wildfire Prevention Platform trained intelligent cameras to look for and identify risky vegetation. The data are visualized by an app that shows active risks and offers recommendations on how to solve them. Their initial customers will be insurers who will reward property owners if they install the camera and act by the recommendations. Congrats to Jhorman, Andrés, and Beatrice!
Leaders and Experts in AI Technology, startups, business and health. They were excited about the ideas and pitches of the teams.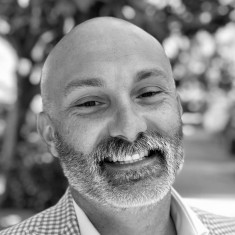 OpenVINO Academic Program Manager,
Network and Edge Group
Intel Corp.

San Francisco Bay Area, CA, USA
An excellent and diverse group of mentors supported our teams during the first Transatlantic AI Hackathon:
Erik Kokalj, Software developer, Luxonis
Karolina Piekarz, Operations Manager, Luxonis
Łukasz Piłatowski, Embedded AI Developer, Luxonis
Jason Burris, OpenVINO Academic Program Manager, Network and Edge Group, Intel
Thomas Neubert, Senior Director Strategic Business Development & Innovation, Intel
Devang Aggarwal, Product Analyst – AI/ML, Computer Vision, and IoT, Intel
Adrian Boguszewski, AI Inference Software Evangelist, Intel
Mrinal Karvir, Software Engineering Manager, Intel
Maajid Khan N, Deep Learning Software Engineer, Intel
Ezequiel Lanza, Field Application Engineer (IoT/AI), Intel
Kavitha Krishnan, Head of Innovation Center Network, Bangalore, SAP
Marcus Krug, Head of Innovation Center Network, Berlin/Potsdam, SAP
Samuel Boehme, Technology Lead and Business Advisor, SAP Innovation Center Network
Jake Wyrick, Senior Associate, WilmerHale
Ragnar Kruse, Co-Founder & Managing Director, AI.Fund and AI.Hamburg
Gilles Allain, International Business Leader, EIT Digital Accelerator
David Chechelashvili, SVP Business Development, Xpand Vision
Elisabeth L'Orange, CCO, Oxolo GmbH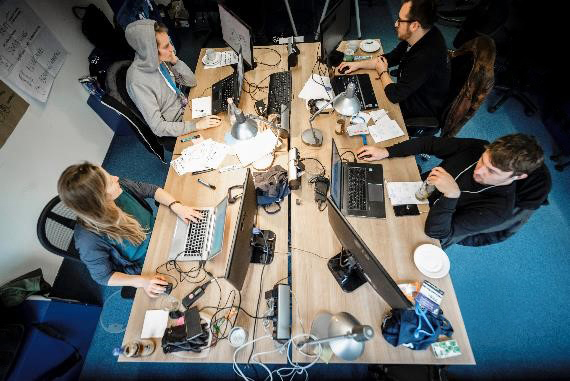 Challenge
The pandemic has accelerated digitalization in many areas and has tremendously raised the general awareness around health and safety. The first Transatlantic AI Hackathon will pick-up on these important developments and dive deeper into the possibilities of how edge AI can help improve health and safety in new and creative ways.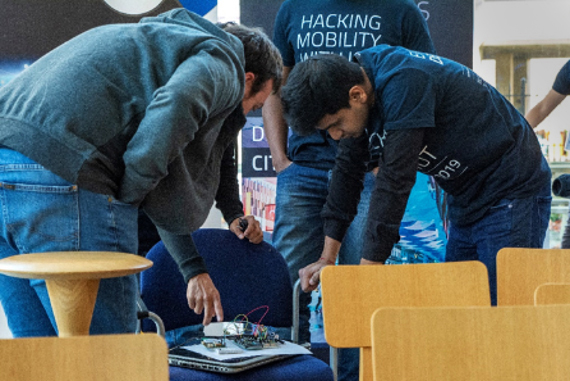 The Transatlantic AI Hackathon – Health and Safety Monitoring DeepHack calls for your AI-powered sensor and computer vision solutions at the edge. Imagine how intelligent local devices collect and evaluate data in real time to aid individuals or groups of people to stay safe and healthy.
Think about fall monitoring, how to assist the visually impaired, pedestrian/bicyclist safety, monitoring physical distance and mask wearing, physical worker safety, fitness and posture tracking – and other health and safety problems that can be solved with edge AI.
Your ideas and creativity are needed more than ever to bring new solutions to reality. Join the challenge and benefit on many levels: create an AI and data-driven solution that helps individuals and the society, learn from experienced experts at top companies, receive hardware and software to use (and keep), win cash prizes (a total of $10,000), and collaborate with peers and participating organizations beyond the Hackathon.
Challenge Introduction
This information session informs potential participants, contributors and the general public about the challenge, prizes, give-aways, sponsors, process, and requirements.
Watch the video and get plenty of information about the process, the format of the Hackathon, and best practices.
OpenVINOTM Training Program
Session 1
OpenVINOTM Training Program
Session 2
OpenVINOTM Training Program
Session 3
OpenVINOTM Training Program
Session 4